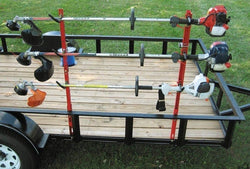 The new Trimmer Rack design enables the user to load and unload the trimmer even easier than before. This ground-breaking design also allows the customer to custom fit each trimmer to prevent rolling during transport.
Secure three trimmers quickly and easily! The spring loaded design and heavy duty locking bar deters theft, while the innovative compression pin and hook device eliminates spinning during transport. The 3TR comes with a spool line holder that alleviates the headaches of tangled trimmer line. Optional
Tool Rack
can be attached to the 3TR.
Enclosed Trailer Add-Ons:
Notes: Our trimmer racks and blower holders can be mounted to an enclosed trailer with our optional
Wall Mount Kit.
Blower Holders (1BH & 2BH) require one kit. Trimmer Racks (2TR,3TR,4TR) require two kits. 
This is Scratch and Dent Model - Product has everything included. Box may be damaged or product used once or twice.