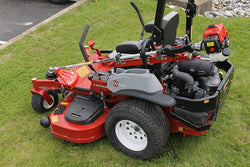 Open Box ZTR-TR Zero Turn Trimmer Rack
Mounts 1 trimmer to 2" roll bar of zero turn mowers
• Have trimmer within reach while you cut
• Adjustable settings for a customized fit
• Quick clamp secures trimmer from spinning

Please note that a separate u-bolt will need to be purchased from your local hardware store to fit roll bars greater than 2".
Link to Installations/Instructions
This is Open Box/Scratch and Dent Model - Product has everything included. Box may be damaged or product used once or twice.